When selecting optical fiber jumper connection cables for high-speed data transmission in telecommunications and networking applications, several key factors need to be considered. These factors ensure the optimal performance, reliability, and compatibility of the cables with the network infrastructure. In this response, we will explore the main considerations to keep in mind when choosing optical fiber jumper connection cables.
Fiber Type:
The first factor to consider is the type of optical fiber used in the jumper cables. Different fiber types have varying characteristics that impact their performance and suitability for specific applications. The two most common fiber types are:
a. Single-Mode Fiber (SMF): SMF is designed for long-distance transmission and provides low signal attenuation, making it suitable for applications that require high data rates over extended distances.
b. Multimode Fiber (MMF): MMF is used for shorter distances and supports multiple light paths or modes. It offers larger core diameters and higher signal attenuation compared to SMF, making it cost-effective for short-reach applications.
Fiber Connector Types:
Optical fiber jumper cables are available in various connector types, and the choice depends on the network equipment and infrastructure. Some common connector types include:
a. LC (Lucent Connector): A small, push-pull connector widely used in high-density environments due to its compact size.
b. SC (Subscriber Connector): A snap-in connector that provides good performance and is easy to install and remove.
c. ST (Straight Tip): A bayonet-style connector commonly used in Ethernet and telecommunications applications.
d. MPO/MTP (Multiple-Fiber Push-On/Pull-off): These connectors allow for high-density connections with multiple fibers in a single connector, suitable for data centers and high-speed applications.
Fiber Count:
The fiber count refers to the number of individual optical fibers within a single cable. When selecting optical fiber jumper cables, it is essential to determine the required fiber count based on the network's capacity and future scalability needs. The fiber count can range from a single fiber to hundreds of fibers in a single cable, depending on the specific application.
Cable Construction:
Optical fiber jumper cables are available in various cable constructions, including loose tube, tight-buffered, or ribbon cables. The choice of cable construction depends on factors such as installation environment, flexibility requirements, and protection against external factors like moisture and physical damage. It is important to select cables that are suitable for the specific installation conditions and provide the necessary durability and protection for long-term performance.
Cable Length:
The length of optical fiber jumper cables should be carefully considered to ensure proper reach and connectivity within the network infrastructure. It is crucial to measure and plan the required cable lengths accurately, considering the distance between network components, patch panels, or interconnect points. Additionally, it is essential to account for any slack or extra length needed for cable management and future flexibility.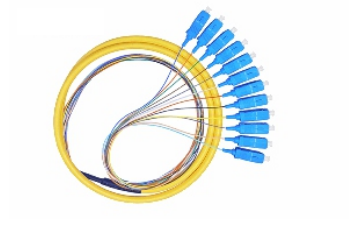 Performance Specifications:
Optical fiber jumper cables come with performance specifications that impact their transmission capabilities. Key performance considerations include:
a. Insertion Loss: It measures the amount of signal loss that occurs when the cable is connected to network equipment. Lower insertion loss indicates better signal transmission efficiency.
b. Return Loss: It quantifies the amount of light reflected back toward the source due to impedance mismatches or disruptions in the fiber connection. Higher return loss indicates better signal quality and minimizes signal degradation.
c. Bandwidth: The cable's bandwidth determines the amount of data that can be transmitted over a given distance. It is essential to select cables with sufficient bandwidth to support the required data rates and transmission distances.
Compatibility:
Ensure compatibility between the optical fiber jumper cables and the network equipment being used. This includes compatibility with transceivers, switches, routers, and other components in the network. Verify that theoptical fiber jumper cables are compatible with the required fiber types, connector types, and performance specifications of the network equipment to ensure seamless integration and optimal performance.
Environmental Considerations:
Consider the environmental conditions in which the optical fiber jumper cables will be installed. Factors such as temperature extremes, moisture, and exposure to chemicals or external hazards can affect the cable's performance and lifespan. Select cables that are designed to withstand the specific environmental conditions of the installation site.
Installation and Maintenance:
Consider the ease of installation and maintenance when choosing optical fiber jumper cables. Cables with features such as bend-insensitive fibers, easy-to-handle connectors, and durable construction can simplify the installation process and reduce the time required for maintenance tasks such as cleaning and troubleshooting.
Future Scalability:
Lastly, consider the future scalability of the network infrastructure when selecting optical fiber jumper cables. Evaluate the potential growth and expansion plans of the network to ensure that the chosen cables can accommodate future needs without requiring major upgrades or replacements.
In conclusion, when selecting
optical fiber jumper connection cables
for high-speed data transmission in telecommunications and networking applications, key factors to consider include the fiber type, connector types, fiber count, cable construction, cable length, performance specifications, compatibility with network equipment, environmental considerations, installation and maintenance requirements, and future scalability. By carefully considering these factors, network administrators can ensure the optimal performance, reliability, and compatibility of optical fiber jumper cables within their network infrastructure.